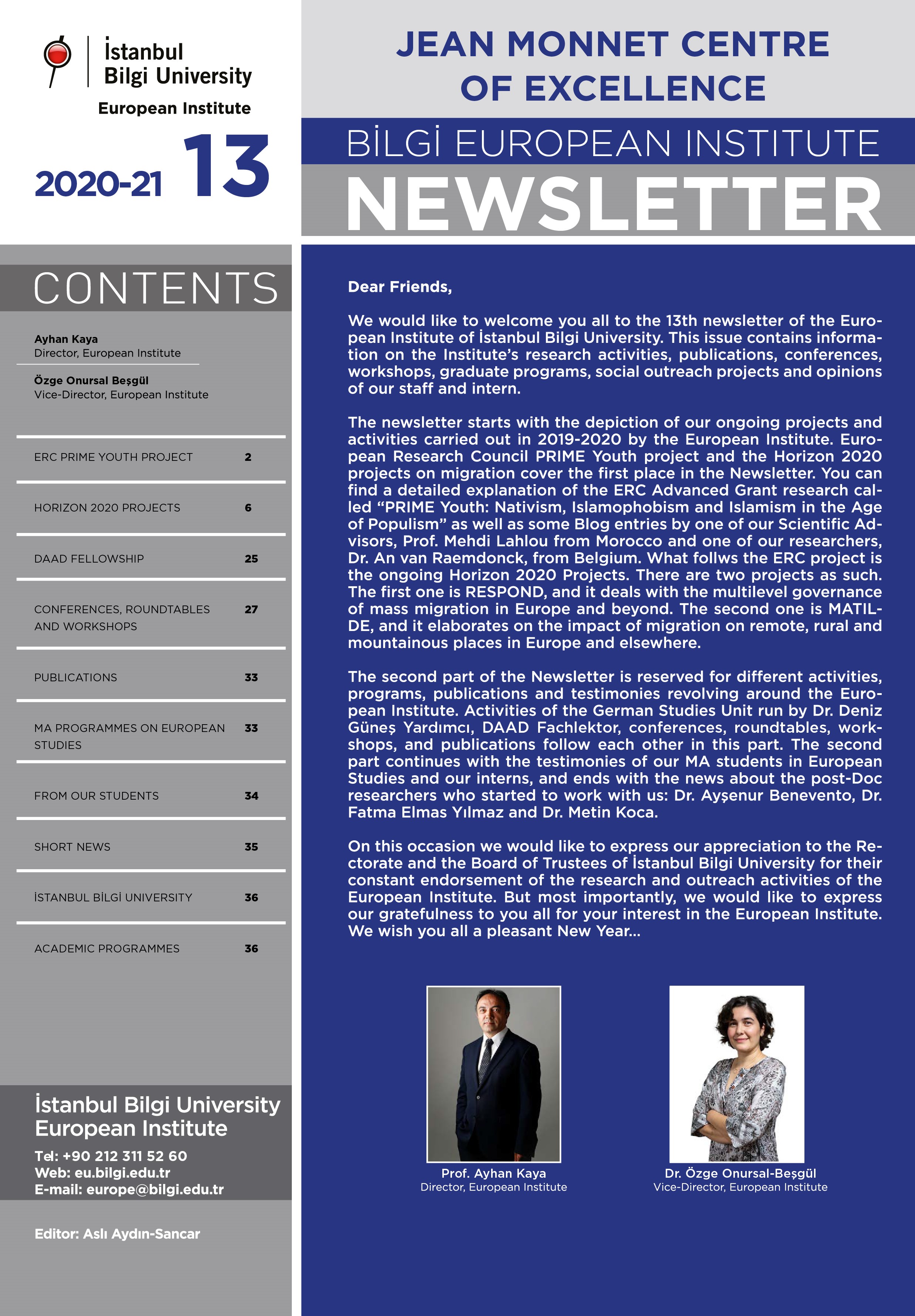 Dear Friends,
We would like to welcome you all to the 13th newsletter of the European Institute of İstanbul Bilgi University. This issue contains information on the Institute's research activities, publications, conferences, workshops, graduate programs, social outreach projects and opinions of our staff and intern.
The newsletter starts with the depiction of our ongoing projects and activities carried out in 2019-2020 by the European Institute. European Research Council PRIME Youth project and the Horizon 2020 projects on migration cover the first place in the Newsletter. You can find a detailed explanation of the ERC Advanced Grant research called "PRIME Youth: Nativism, Islamophobism and Islamism in the Age of Populism" as well as some Blog entries by one of our Scientific Advisors, Prof. Mehdi Lahlou from Morocco and one of our researchers, Dr. An van Raemdonck, from Belgium. What follws the ERC project is the ongoing Horizon 2020 Projects. There are two projects as such. The first one is RESPOND, and it deals with the multilevel governance of mass migration in Europe and beyond. The second one is MATILDE, and it elaborates on the impact of migration on remote, rural and mountainous places in Europe and elsewhere.
The second part of the Newsletter is reserved for different activities, programs, publications and testimonies revolving around the European Institute. Activities of the German Studies Unit run by Dr. Deniz Güneş Yardımcı, DAAD Fachlektor, conferences, roundtables, workshops, and publications follow each other in this part. The second part continues with the testimonies of our MA students in European Studies and our interns, and ends with the news about the post-Doc researchers who started to work with us: Dr. Ayşenur Benevento, Dr. Fatma Elmas Yılmaz and Dr. Metin Koca.
On this occasion we would like to express our appreciation to the Rectorate and the Board of Trustees of İstanbul Bilgi University for their constant endorsement of the research and outreach activities of the European Institute. But most importantly, we would like to express our gratefulness to you all for your interest in the European Institute. We wish you all a pleasant New Year…