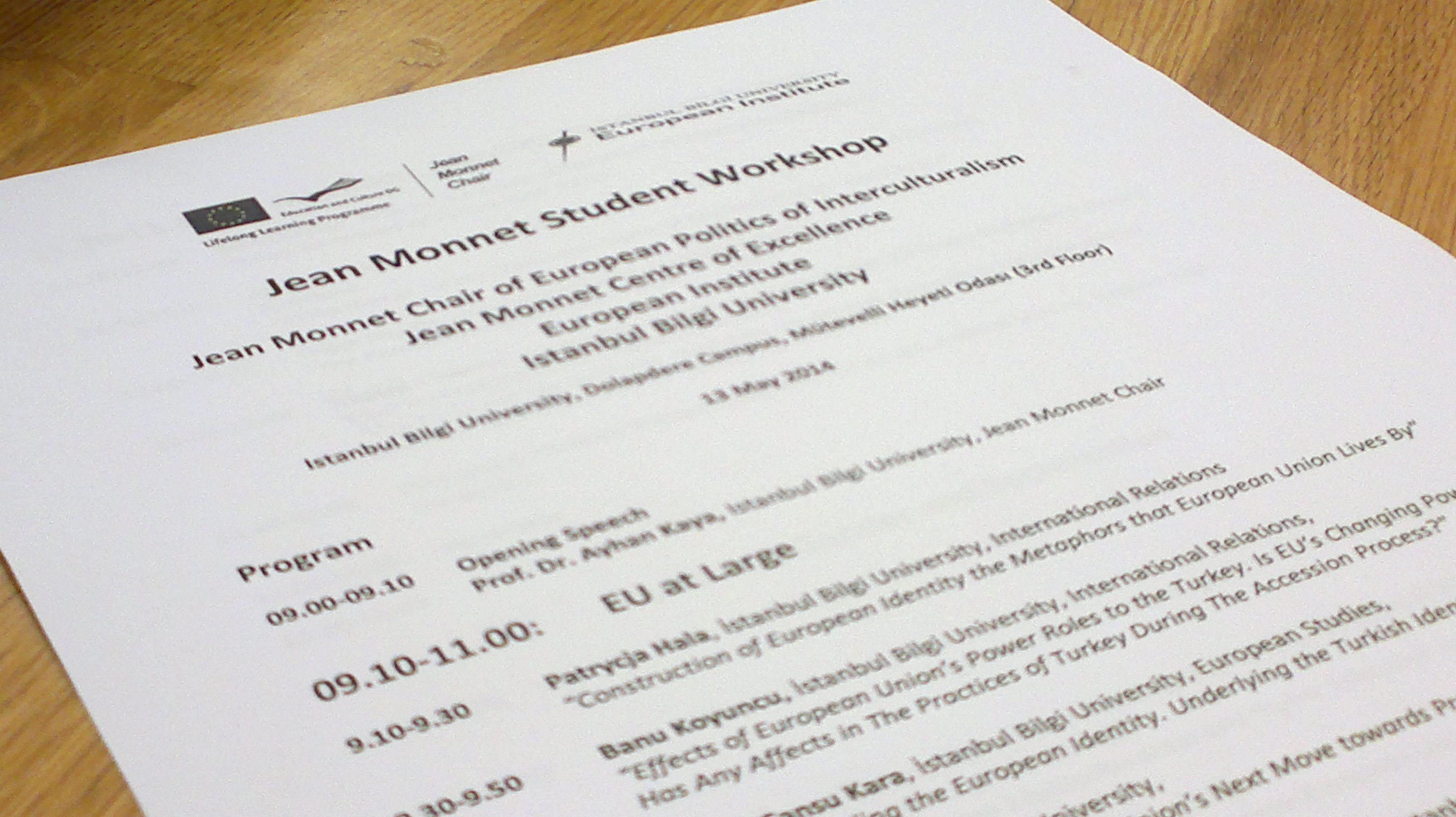 Istanbul Bilgi University held its 2nd Jean Monnet Student Workshop in May 2014
After realizing the first Jean Monnet Student Workshop in 2013, the European Institute of Istanbul Bilgi University was happy to hold its second workshop in May 2014. The student workshop was organized in the form of a round-table discussion and participants where selected from undergraduate as well as graduate programs from Istanbul Bilgi University and other universities in Turkey.
A wide range of subjects were presented which covered issues such as mobility, diversity, citizenship, minorities, identities, education, tolerance, coexistence, cohabitation, multiculturalism and interculturalism. The program had been subdivided into three panels.
The first panel was led by the Jean Monnet Chair at Istanbul Bilgi University, Mr. Ayhan Kaya, and devoted to the field of "EU at large" and covering the following issues:
"Construction of European Identity the Metaphors that European Union Lives By"
Patrycja Hala, İstanbul Bilgi University, International Relations
"Understanding the European Identity. Underlying the Turkish Identity"
Bahar Cansu Kara, İstanbul Bilgi University, European Studies
"What will be the European Union's Next Move towards Presumed Polarisation and Intolerance in Turkish Society?"
Burcu Yiğiter, Boğaziçi University

The second panel was lead by the PhD Candidate in Political Science of Istanbul Bilgi University, Melanie Weissenberg, and covered the field of "Migration, Mobility, Gender and Diversity":
"Minorities in Turkey Status and Rights of Minorities on the Road to EU"
Ayşegül Uçkun, Ankara University, European Union and International Economic Relations
"The Perceptions of Armenian People in Turkey"
Tuğçe Erçetin, University of Essex, Political Science
"The Turks and the Germans. How does the german domestic Integration politics influence the Perspective on Turkeys EU accession?"
Marleen Winter, Double Degree Student Istanbul Bilgi University-
European University Viadrina Frankfurt Oder, European Studies
The last panel was devoted to the issues of "Education, Gender and Socialization" and led by the PhD Candidate of Political Science of Istanbul Bilgi University Sernaz Arslan:
"Pluralism and Gender Equality in the EU"
Hena Kadic, İstanbul Bilgi University, International Relations
"Gender in International Migration Studies and Migrant Women's Position in the European Union"
Leyla Yıldız, İstanbul Bilgi University, International Relations
"The Linkage Between Multiculturalism and Higher Education in Turkey-EU Relations"
Güzin Aycan Öztürk, Marmara University, Department of Political Science and
International Relations in Sociology
"Right Based Child Policies in Turkey from European Union Perspective"
Esra Ceran Akgül, Marmara University
As the emphasis of the Jean Monnet Chair of European Politics of Interculturalism is on the matters of social cohesion, the students were able to present and discuss their works on the relevant issues, which are believed to be very relevant for the Turkey-EU Relations in general, and for the Turkish context in particular.
The second Jean Monnet Student workshop again was a great succes and we kindly thank all the participants for their great effort and contribution to it.