Digital EU Book: http://digitaleurope.bilgi.edu.tr/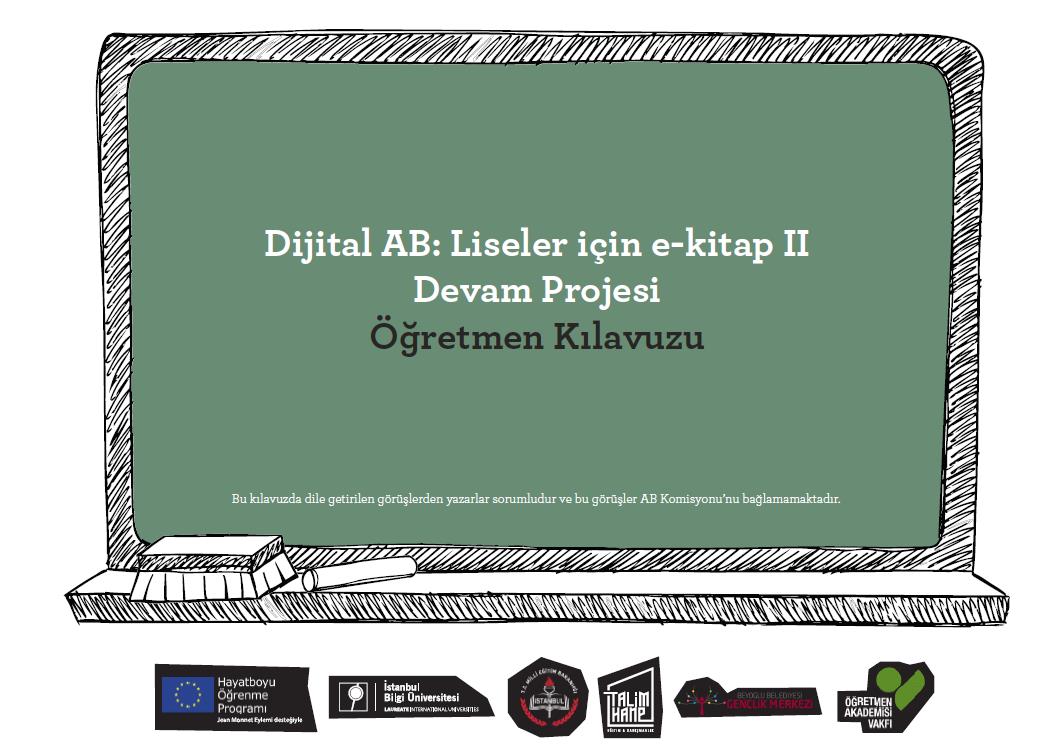 Teacher's Guide: http://eu.bilgi.edu.tr/media/files/ogretmen_rehberi.pdf
The project aims to increase the level of participation to EU related processes and to reduce prejudices towards the EU among citizens of Turkey by enhancing knowledge and awareness among young citizens of Turkey of issues related to the European integration.
This aim was achieved by the publication of digital textbook (E-BOOK) addressing students between the ages of 13 to 18, aiming to develop and deliver appropriate pedagogical content and new didactic material for the teaching of European integration at the level of primary and secondary school students and teachers in Turkey.
The E-BOOK is based on the idea that creating a sense of European citizenship, understanding and respect for human rights and democracy, and encouraging tolerance and respect for other peoples and cultures will raise awareness for the European Union at this time of difficulties in the Enlargement process and crisis, and covers subjects such as introduction to EU, Key EU policies and constructing European citizenship. The E-BOOK also contains a large number of visuals, video interviews of leading persons from politics, academia, civil society both in Turkey and the EU (such as President Martin Schulz and the EU Ambassador to Turkey, Jean-Maurice Ripert) to whom we wish to extend our thanks for their support.
The content and the methodology of the e-book and the teacher's guide were identified though a collaborative process with students and teachers, youth workers, experts and academics who helped analyze the needs, identify the best ways to teach and learn EU, and who also provided feedback on the outcomes.
The project was conducted in collaboration with Istanbul Directorate of National Education which gave us the necessary support in order to reach students and teachers from various economic, cultural and social backgrounds in İstanbul for the needs analysis and testing periods of the project. Special attention was brought to an equal participation of female and male students as well as inclusion of students from most excluded groups such as Roma to all stages of the process.
The "Digital European Union: e-book for Primary high school students in Turkish" is an "open source" resource and is accessible via a web site (http://digitaleurope.bilgi.edu.tr) for online use. It is also downloadable to enable offline use and a version compatible with tablet computers which we hope will be included by the Turkish Ministry of Education on the "recommended reading" list and reach all Primary and Secondary Schools (FATİH Project).
Although enclosed materials are both in Turkish (the e–Book and the Teacher's Guide), we hope that you will appreciate and share this development with groups who may be interested in Turkey's EU integration process.