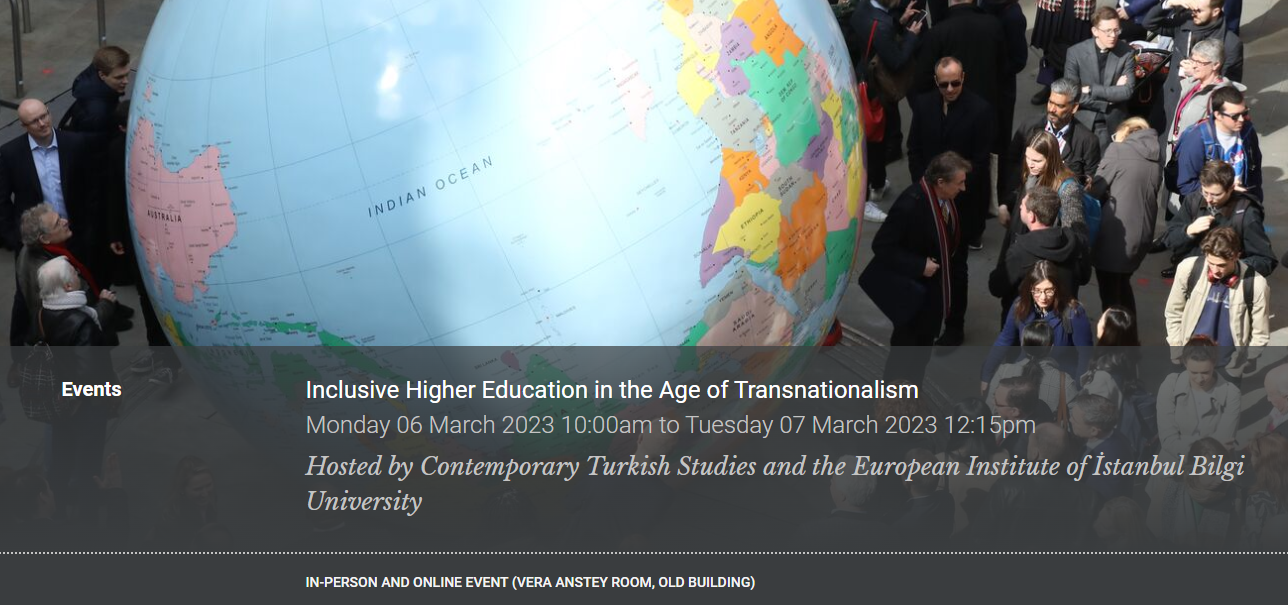 Workshop
"Inclusive Higher Education in the Age of Transnationalism"
6-7 March 2023
Venue: Vera Anstey Room, Old Building Houghton Street, London WC2A 2AE UK (and online -see below for Zoom details)
Co-organised by Contemporary Turkish Studies at the European Institute and
the European Institute of Istanbul Bilgi University.
This two-day workshop will concentrate on the issue of inclusive higher education with a particular focus on transnational students, including refugees. The event will bring together academics and practitioners to provide a platform where the participants can share their research and experiences. The discussions will also consider various models of intercultural higher education built in collaboration with local governments, businesses, and NGOs.
The workshop's primary goal is to establish a network of scholars interested in studying the opportunities and challenges refugee youth and students from different ethnic and racial backgrounds face in attaining higher education. While the participants will explore future collaborative projects on inclusive higher education in general, the network will also help in the eventual drafting of comprehensive guidelines for higher education institutions in Turkey to transfer knowledge by building their capacities. The workshop will also consider the future of universities in regions impacted by the devastating earthquakes in February 2023.
On the first day of the event, different cases and research on the topic will be presented by experts. The second day will be in the format of an open discussion, mapping the way forward, including possibilities for future projects the network might undertake.
6th of March
10:00-10:30 Registration and welcome for in-person attendees
10:30-11:00 Opening remarks and introductions of the participants (online and in-person)
11:00-12:30 Experiences from BILGI
Moderator: Özge Onursal-Beşgül
Ayhan Kaya, Director of BILGI European Institute – "Internationalisation and Intercultural Communication in Higher Education: Inclusiveness and Recognition"
Kenan Çayır, Director of the Centre for Sociology and Education Studies at BILGI (via zoom) – "Researching the schoolbooks and pedagogies for the inclusion of refugees"
Aslı Tunç, Vice Rector of BILGI and Department of Media Studies – "A Brief Glance at Internationalisation Policies in Turkish Higher Education and BİLGİ's Institutional Journey"
Mehmet Ali Tuğtan, Director of BILGI Distance Learning Centre (via zoom) –
"What We learned from the Crisis: Inclusiveness and the Emergency Remote Teaching"
14:00-16:00 Experiences from LSE
Moderator: Yaprak Gürsoy
Akile Ahmet, Eden Centre for Educational Enhancement, LSE – "Seeing and valuing each-others humanity in the classroom: moving beyond targets and metrics"
Jennifer Jackson-Peerce, European Institute, LSE – "Decolonising the curriculum: lessons from the European Institute, LSE"
Tolga Sınmazdemir, Department of Politics and International Studies, SOAS and European Institute, LSE – "Determinants of Turkish Citizens' Attitudes Towards Integration of Syrian Refugees: Evidence from a Conjoint Survey Experiment"
Fredrich Püttmann, European Institute, LSE – "Why invoking Religious Brotherhood doesn't help - Street-Level Narratives of Pious Turks about their Relation to the Syrian Refugees"
16:00-18:00 Experiences from Different Institutions
Moderator: Ayhan Kaya
Nick Gill, Department of Geography, University of Exeter, and Universities of Sanctuary – "Universities of Sanctuary: Review and Prospects"
Mehmet Nuri Gültekin, Gaziantep University - "The internationalization patterns of Gaziantep University amongst the local, regional, and global dynamics"
Begüm Dereli, European Council on Refugees and Exiles - Belonging to and through the university: 'Campus is a kind of small town, our town'"
Muhammad Al Mahameed, University of Copenhagen – "Refugee Entrepreneurship, Socio-Cognitive Scaffolding and Business Schools"
7th of March
You are invited to a Zoom webinar.
When: Mar 7, 2023 10:30 London
Topic: Inclusive Higher Education in the Age of Transnationalism
Register in advance for this webinar:
https://lse.zoom.us/webinar/register/WN_noQawkweS1GjfDDs9LL-7w
After registering, you will receive a confirmation email containing information about joining the webinar.
10:30-12:15 Mapping the Way Forward
Discussion on further collaboration, publication, outputs, and guidelines for universities.