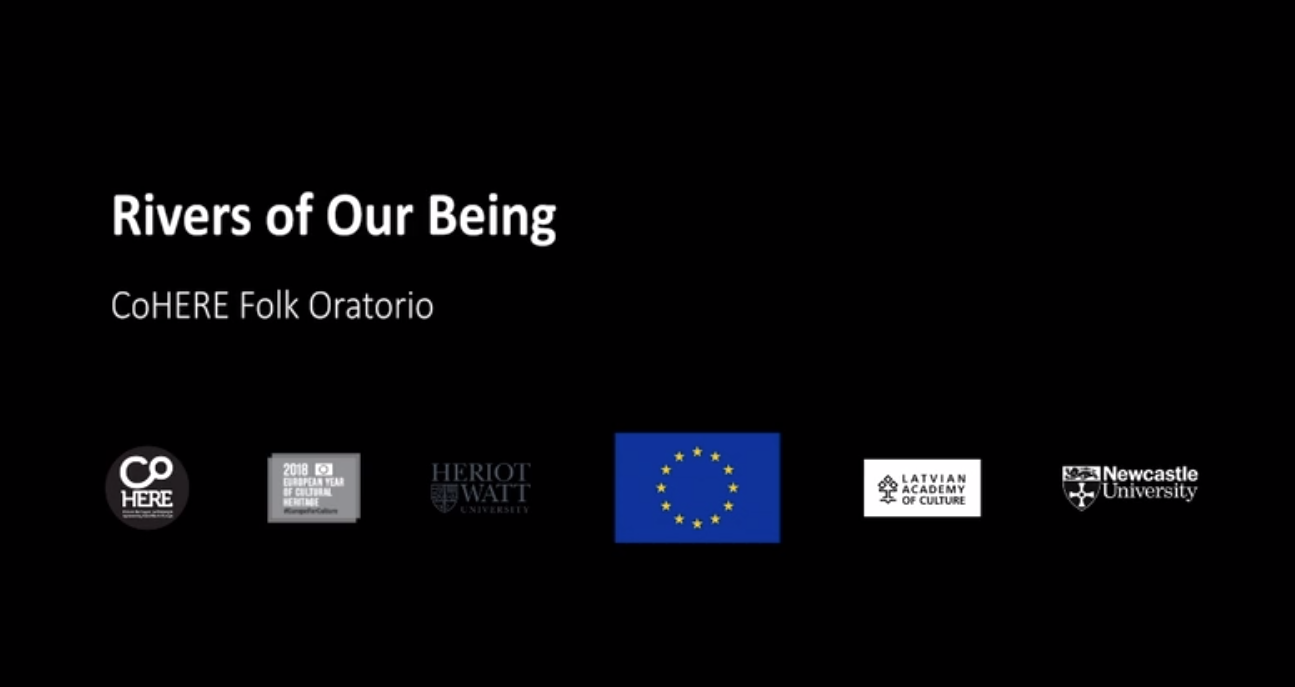 Oratorio
"Rivers of our Being"
The Scottish Storytelling Centre,
Edinburgh 30 November 2018​
​​​​​​
A preview performance of the Folk Oratorio Rivers of our being is available here!
For more information about the oratorio please click here!
As part of the activities carried out within the Work package 3 "Cultural forms and expressions of identity in Europe" Valdis Muktupāvels (Latvian Academy of Culture) wrote the score for an oratorio engaging critically with European heritage and identity through multi-media performances using traditional and contemporary forms. The performances took place on 30th November 2018 in Newcastle and 1st December 2018 in Edinburgh.
Below we offer information about composer Valdis Muktupāvels and musical samples of Valdis Muktupāvels's previous compositions.
Valdis Muktupāvels (1958) is a scholar, composer and musician. He has received his Doctor of Arts (PhD) degree in 1999 with the dissertation "Systematics of Latvian musical instruments". He is Professor of ethnomusicology and Director of the Baltic Sea Region studies MA programme at the University of Latvia, corresponding member of Latvian Academy of Sciences. He is a researcher at the Research Centre of Latvian Academy of Culture. He has been a guest professor in many European and North American universities.
Valdis Muktupāvels' fields of expertise – Latvian and Baltic traditional and modern music culture: historical and social aspects, traditions and change, musical instruments, culture and identity issues. He has authored and coauthored five books and more than 50 articles, published among others in such editions as The Grove Dictionary of Musical Instruments, Journal of Baltic Studies, The World of Music, The Garland Encyclopedia of World Music, Macmillan Encyclopedia of Religion and others.
He is one of the key figures of the folklore revival movement in Latvia, he has contributed to the revival of traditional musical instruments and has promoted preservation and dissemination of the heritage at home and abroad.
Valdis Muktupāvels is a composer of choral, instrumental and film music, and he is renowned for his mysteries Viena pati Jāņu zāle (2010) and Nemus sonorum. Skaņumeža mistērija (2008), oratorio Pontifex. Pārcēlājs (2004), albums of traditional and modern psaltery kokles (2002) and bagpipe (2000 in Latvia, 2002 in U.K.) music. Among the films with his music are Litauen – grünes Herz Europas (NDR, 2008), Dina (J. Podnieka studija, 2005), Lettland: Wildnis zwischen Russland und Riga (NDR, 2003).
Valdis Muktupāvels is awarded the fifth class Order of Lithuanian Grand Duke Gediminas (2001) and twice the annual National Grand Prize in folklore (2003, 2005).
Selected recordings by Valdis Muktupāvels:
Trejdeviņi koklētāji (2016). Lauska CD 063
Ozols. Oak (2015). RSQ 4
Valdis Muktupāvels un draugi. Karsta bija Jāņu nakte. Saulgriežu maģiskā saspēle (2012). Micrec MRCD 490
Skaņumeža mistērija. Mystery nemus sonorum (live recording, 2008) https://www.youtube.com/watch?v=YvxtXp8b6FI
Vairas dziesmas (2008). Lauska CD 21
Valdis Muktupāvels. Pārcēlājs. Pontifex (2005). Latvijas Radio LRCD 047
Valdis Muktupāvels. Kokles (2002, 2nd ed. in 2016). UPE CD 043
The bagpipes of Latvia (2002). ARC Music Productions EUCD 1692
Ensemble Rasa. Lettonie: musiques des rites solaires. Latvia: music of solar rites (1995). INEDIT W 260062