Okuma Önerisi:
The Renaissance of Remote Places: MATILDE Manifesto
(Ücra Yerlerin Rönesansı: MATILDE Manifesto)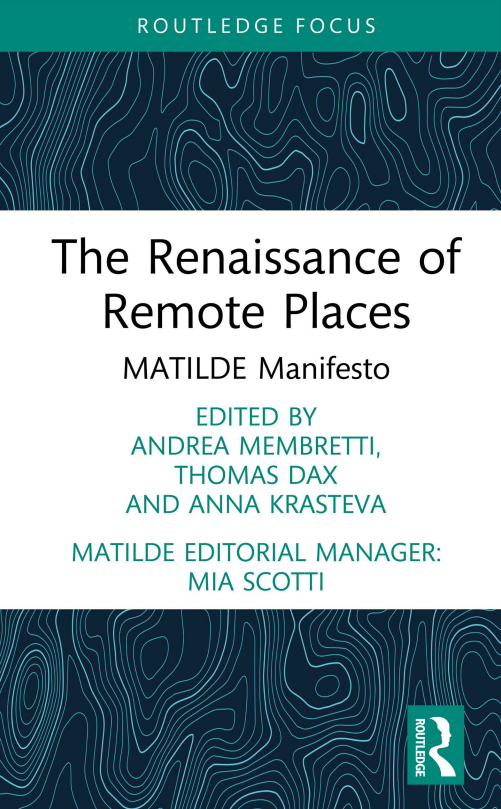 MATILDE Projesi kapsamında yayına hazırlanan ve editörlüğünü Andrea Membretti, Thomas Dax ve Anna Krasteva'nın üstlendiği "MATILDE Manifesto: Ücra Yerlerin Rönesansı" başlıklı kitap herkese açık erişimli olarak yayına girmiştir.
Kitap, Ücra yerlere ve marjinalleştirilmiş bölgelere özellikle dikkat çekmekte ve Avrupa'nın kırsal ve dağlık bölgelerinin yerel kalkınmasında iç ve uluslararası göçün rolünün bir kavramsallaştırmasını sunmaktadır.
Kitap, Ufuk2020 projesi olan MATILDE'nin uluslararası ve çok disiplinli ağı tarafından üretilen ortak bir çabanın ürünüdür. Kitap, yeni verileri ve bilimsel temelli bilgileri harekete geçirerek, ücra bölgeleri ve bu bölgelerin sakinlerini yerel, bölgesel, ulusal ve AB düzeylerinde yenilikçi politikaların merkezine koymaya davet ediyor.
İnsan ve nüfus coğrafyası, kırsal çalışmalar, göç çalışmaları ve sosyal ve siyasal bilimlerdeki araştırmacılar, öğrenciler ve politika yapıcılar için önemli bir kaynak olarak görülen açık erişimli kitaba erişmek için: https://doi.org/10.4324/9781003260486