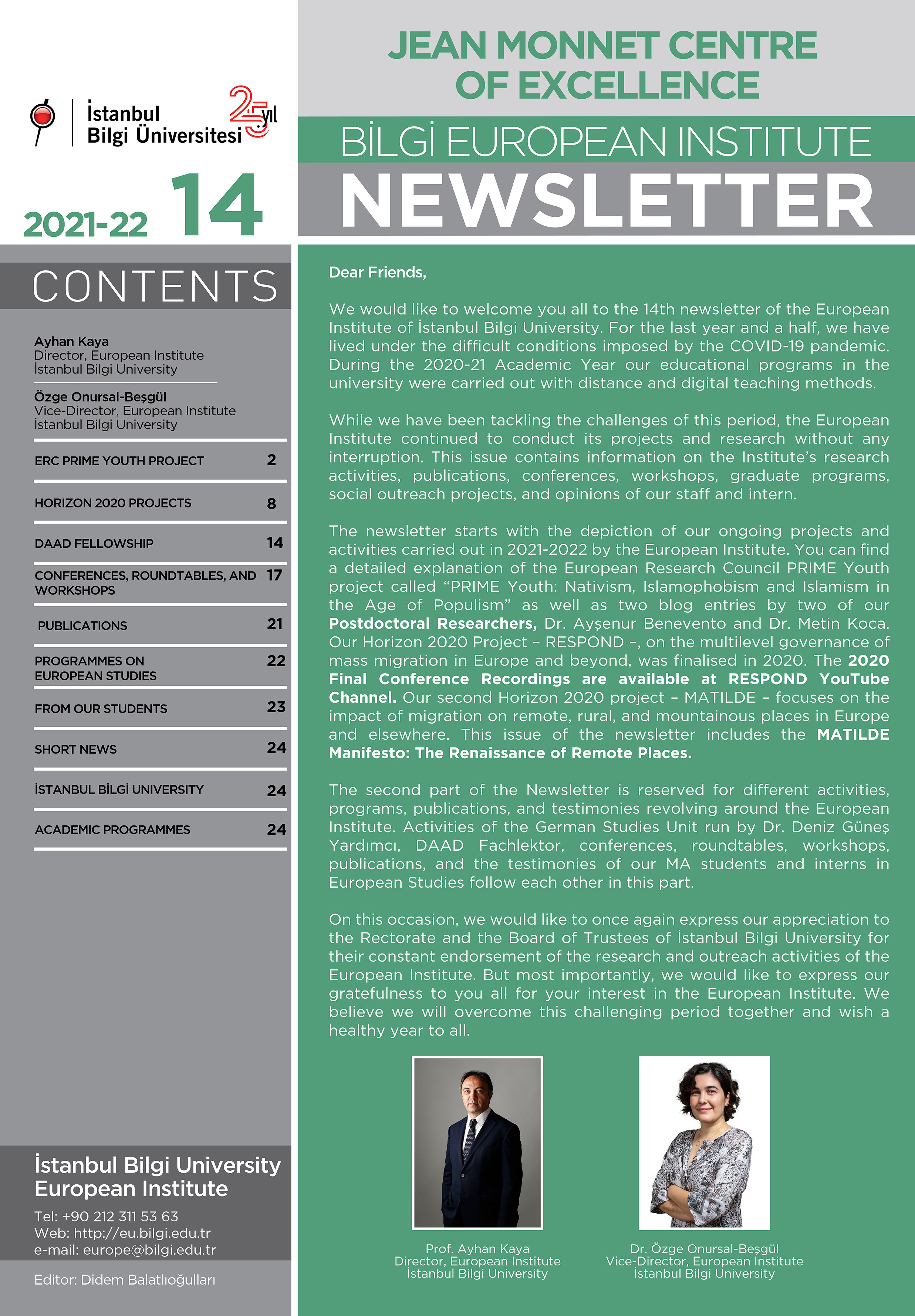 BİLGİ European Institute Newsletter Issue 14 (2021-22) is online now.
Dear Friends,
We would like to welcome you all to the 14th newsletter of the European Institute of İstanbul Bilgi University. For the last year and a half, we have lived under the difficult conditions imposed by the COVID-19 pandemic. During the 2020-21 Academic Year our educational programs in the university were carried out with distance and digital teaching methods.
While we have been tackling the challenges of this period, the European Institute continued to conduct its projects and research without any interruption. This issue contains information on the Institute's research activities, publications, conferences, workshops, graduate programs, social outreach projects, and opinions of our staff and intern.
The newsletter starts with the depiction of our ongoing projects and activities carried out in 2021-2022 by the European Institute. You can find a detailed explanation of the European Research Council PRIME Youth project called "PRIME Youth: Nativism, Islamophobism and Islamism in the Age of Populism" as well as two blog entries by two of our Postdoctoral Researchers, Dr. Ayşenur Benevento and Dr. Metin Koca. Our Horizon 2020 Project – RESPOND –, on the multilevel governance of mass migration in Europe and beyond, was finalized in 2020. The 2020 Final Conference Recordings are available at RESPOND YouTube Channel.
Our second Horizon 2020 project – MATILDE – focuses on the impact of migration on remote, rural, and mountainous places in Europe and elsewhere. This issue of the newsletter includes the MATILDE Manifesto: The Renaissance of Remote Places.
The second part of the Newsletter is reserved for different activities, programs, publications, and testimonies revolving around the European Institute. Activities of the German Studies Unit run by Dr. Deniz Güneş Yardımcı, DAAD Fachlektor, conferences, roundtables, workshops, publications, and the testimonies of our MA students and interns in European Studies follow each other in this part.
On this occasion, we would like to once again express our appreciation to the Rectorate and the Board of Trustees of İstanbul Bilgi University for their constant endorsement of the research and outreach activities of the European Institute. But most importantly, we would like to express our gratefulness to you all for your interest in the European Institute.
We believe we will overcome this challenging period together and wish a healthy year to all!
İstanbul Bilgi University
European Institute
Jean Monnet Centre of Excellence